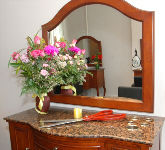 Studio SLK's mission is to provide a "hair retreat" for the modern multicultural woman where beauty and wellness walk hand in hand.
We will provide her with an assortment of hair services and exquisite customized customer care in a modern, refreshing salon environment at affordable prices.
We vow to provide the best possible services, products, experience and education to our valued clients. We look to the future as an opportunity to constantly improve and refine our operations by engaging with, listening and responding to our customers.
We promise to fulfill our mission within a relaxed and refreshing atmosphere staffed with a highly trained and educated team who will continue to incorporate the cutting-edge trends in our industry.
Sandy Lewis-Kadiri,
Licensed Cosmetologist and Owner